Allison H. Payne, Ph.D.
Associate Professor
Department of Radiology and Imaging Sciences
University of Utah
Seminar Information
Seminar Date
September 30, 2022 - 2:00 PM
Location
The FUNG Auditorium - PFBH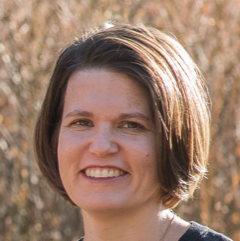 ---
Abstract
Improved early detection methods and treatments have led to the reduction of breast cancer mortality, yet there remains a need for more conservative, more efficacious and less invasive breast cancer treatments. Magnetic resonance guided focused ultrasound (MRgFUS) is a promising non-invasive treatment for localized breast cancer. MRgFUS leverages breast magnetic resonance imaging (MRI) to plan, monitor and assess treatments under MRI guidance to attain tumor destruction with focused ultrasound, achieving excellent cosmetic results. MRgFUS is one of the most attractive emerging minimally invasive procedures for breast cancer. This talk will describe several aspects of breast MRgFUS that has been developed by Dr. Payne's Focused Ultrasound Lab including device design, clinical translation including ongoing clinical trials, quantitative MRI contrasts for treatment monitoring and assessment, and imaging biomarker development.    
Speaker Bio
Dr. Allison Payne received her PhD in Mechanical Engineering in 2008 at the University of Utah studying bioheat transfer with her advisor Dr. Robert Roemer. She is currently an Associate Professor in the Department of Radiology and Imaging Sciences at the University of Utah. Her research lab focuses on the clinical translation of magnetic resonance guided focused ultrasound to treat breast cancer, back and neck pain and neurological applications and developing quantitative imaging biomarkers to assess thermal and other non-invasive therapies more accurately. She has held committee chair and board positions in several professional societies and is currently a standing member of the NIH Imaging Guided Interventions and Surgery study section. When not in the lab, she enjoys the outdoor lifestyle in Utah with her husband and three children.