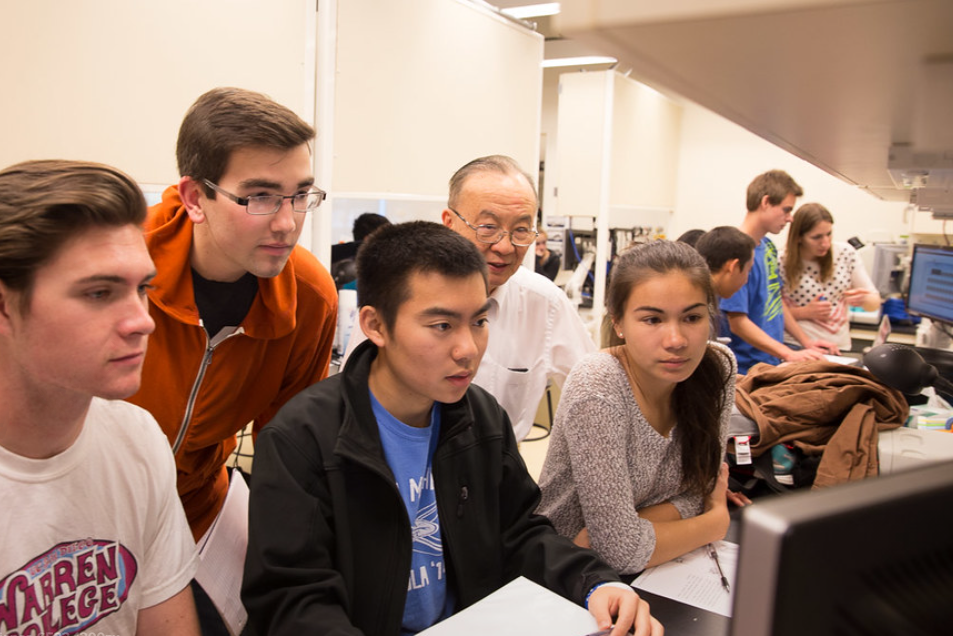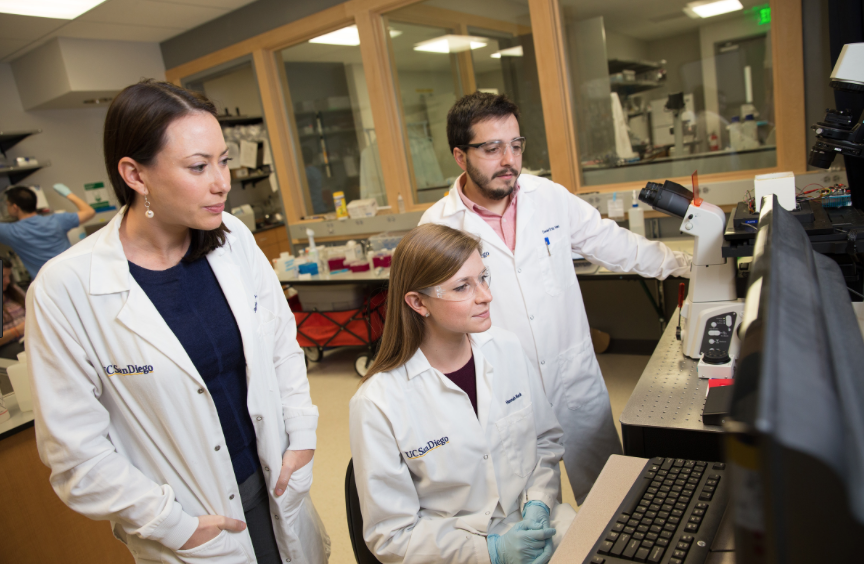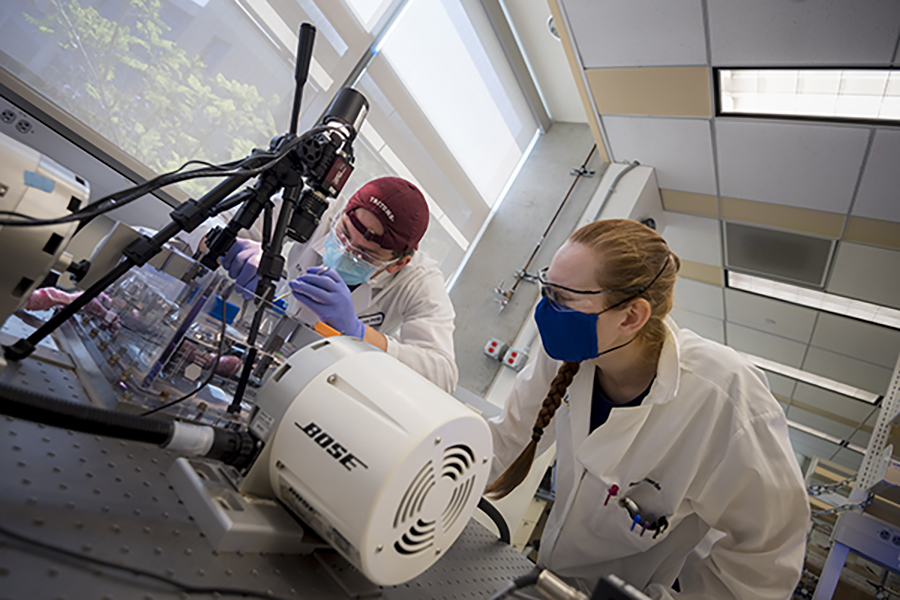 Improving health and quality of life by applying engineering principles to scientific discovery and technology innovation and training future diverse leaders in Bioengineering through inspiring education and dedicated mentorship.
Welcome to the Department of Bioengineering at UC San Diego. Our team of faculty, students, staff, and alumni have been inventing new devices, discovering new concepts, and challenging paradigms in the field of bioengineering for more than 50 years. Some of the most influential research and design over these decades originated here at UC San Diego, and we are excited to share these with you.
Despite the challenges of today, our campus remains an incredibly diverse and vibrant environment with a team dedicated to facing current challenges with incredible tenacity, resilience, and initiative. As our Department prepares for the next 50 years and beyond, I look forward to continued growth in our core mission areas of bioengineering education, research, and service to the community. On behalf of our Department, I hope that you will join us as we explore the new frontiers and embrace non-traditional research directions in bioengineering.
- Adam Engler, PhD, Chair 2022
---
EXPLORE
Our Mission and Vision

 

Improving health and quality of life by applying engineering principles to scientific discovery and technology innovation, and training diverse future leaders in Bioengineering through inspiring education and dedicated mentorship.

Bioengineering, one of the youngest engineering disciplines, employs the principles and tools of engineering to analyze and solve biological and medical problems. It is broad in its spectrum, with its foundation in all of the traditional engineering sciences, as well as biology, physiology and other biomedical sciences. UC San Diego is at the forefront of bioengineering. In recognition of the unique features and requirements of bioengineering and the excellence of the Bioengineering faculty and programs, the University of California established a Department of Bioengineering in August 1994. 

The Department of Bioengineering ranks 5th in the nation for biomedical/bioengineering (US News and World Report Ranking of Best Engineering Schools, published April 2023). Bioengineering has ranked among the top five programs in the nation every year for over twenty years. At UC San Diego, the cooperative arrangement between the Schools of Engineering and Medicine is the foundation of this success by providing an ideal research and training environment that leads to effective collaborations between engineers and medical scientists. We broadly categorize our research interests to embrace three pillars of bioengineering: multiscale bioengineering, tissue engineering and regenerative medicine, and systems biology and medicine. With established and promising up-and-coming core faculty, our department has four disease focus areas including cancer, cardiovascular diseases, metabolic disorders, and neurodegenerative diseases.

 

History of Bioengineering at UC San Diego

 

The Bioengineering Program at UC San Diego was started in 1966, two years after the founding of the University, as a part of the Department of Applied Mechanics and Engineering Science (AMES), with support by the School of Medicine. The Program was formed by Professors Y.C. Fung, Benjamin Zweifach and Marcos Intaglietta who joined UC San Diego from California Institute of Technology, with world-leading expertise in biomechanics and microcirculation. In 1988, Professor Shu Chien was recruited from Columbia University to succeed Professors Fung and Zweifach as Leader of the Program, together with Professors Richard Skalak and Amy Sung. They added molecular and cellular bioengineering to the research and education programs in Bioengineering in addition to tissue/organ levels, combining experimental studies with theoretical analysis, thus achieving the integrative approach to bioengineering that is adopted nationwide.

Following five years of intense efforts led by Professors Chien and Skalak and with the successful application of the Whitaker Foundation Development Award that provided the financial resource, the University of California approved the establishment of the new Department of Bioengineering in 1994. Professor Chien was appointed as the Founding Chair, and he was followed by Professors David Gough, Andrew McCulloch, Shankar Subramaniam, Geert Schmid-Schönbein, Kun Zhang and Adam Engler, providing continued excellent leadership. The Whitaker Foundation Leadership Award, with matching funds from the Powell Foundation and other sources, enabled the construction of the Powell-Focht Bioengineering Hall for the Department in 2002. The Department of Bioengineering has ranked among the top four programs in the nation every year for more than two decades, and it attained the number-one ranking in 2010 in the most authoritative survey conducted by the National Research Council once every decade. The Department has 42 core faculty who are leaders in bioengineering, as well as many affiliated faculty and research scientists. There are 612 undergraduate students, 234 graduate students, and 38 postdoctoral fellows. The Department has a superb education program and world-leading research activities in molecular and cellular bioengineering, biomechanics, regenerative medicine, genomics, metabolomics, and systems medicine, with effective translation. There are close collaborations with the School of Medicine through the Institute of Engineering in Medicine and excellent interactions with industry.

 

Department History Timeline

 

2020

2021

2022

New Faculty: Benjamin Smarr

Serine restriction alters sphingolipid diversity to constrain tumour growth, Metallo, C., et. al

Scientific American: Experimental Blood Test Detects Cancer up to Four Years before Symptoms Appear, Zhang, K.

Mechanical and Structural Adaptations of Blood Vessels in Pulmonary Arterial Hypertension, Valdez-Jasso, D.

An engineered nanosensor to measure in vivo protease activity in traumatic brain injury, Kwon, E.

 

 

 

New Faculty: Brian Aguado, Bogdan Bintu

Bioengineering Faculty Feature Prominently in the Wu Tsai Human Performance Alliance, McCulloch, A., et. al

Interpretation of cancer mutations using a multiscale map of protein synthesis, Ideker, T.

Peptide tiling screens of cancer drivers reveal oncogenic protein domains and associated peptide inhibitors, Mali, P.

Long-lasting analgesia via targeted in situ repression of Na V 1.7 in mice, Christman, K.

Preventing post-surgical cardiac adhesions with a catechol-functionalized oxime hydrogel, Christman K

7th Bioengineering Chair Dr. Adam Engler 

Developing Sex-specific Treatments for Heart Disease, Aguado, B.

New drug screening method answers why Alzheimer's drugs fail, suggests new targets, Subramaniam, S.

 

 

 

 

 

 

 

 

View our Department History Timeline