Madeleine J. Oudin Ph.D.
Tiampo Family Assistant Professor
Department of Biomedical Engineering
Tufts University
Seminar Information
Seminar Date
November 4, 2022 - 2:00 PM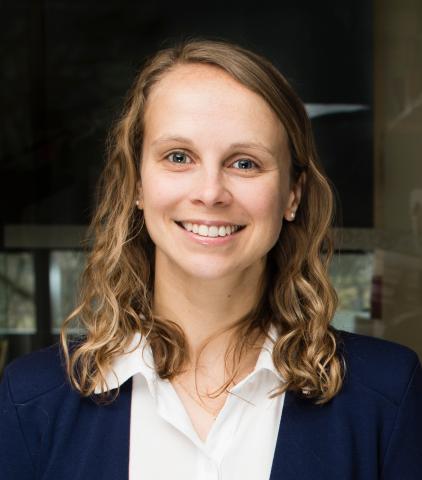 ---
Abstract
The extracellular matrix (ECM) is a major component of the tumor microenvironment, where it can support cellular growth, promote local invasion from the primary tumor, and contribute to metastatic outgrowth in distant sites. Our research focuses on leveraging engineering approaches to understand how individual ECM proteins contribute to tumor progression. First, we developed a computational pipeline to predict the effect of individual ECM proteins on 3D invasion and cancer metastasis. Second, we optimized the seeding and live imaging of tumor cells on decellularized ECM scaffolds isolated from mice to evaluate whole tissue ECM effects on tumor cell proliferation and invasion. We used this method coupled to proteomics to identify individual ECM proteins and their signaling pathways responsible for driving invasion in the context of obesity and drug resistance. Overall, our work further supports the importance of the ECM as a key regulator of metastasis and drug resistance. 
Speaker Bio
Madeleine completed a BSc in Biochemistry at McGill University, a PhD in Neuroscience from King's College London, UK. She was a post-doctoral fellow working in Prof. Frank Gertler's lab at the Koch Institute for Integrative Cancer Research at MIT for 6 years. She received a Breast Cancer Research Department of Defence Post-doctoral Fellowship and a K99/R00 Pathway to Independence from the NCI. She started her own lab at Tufts University in the department of Biomedical Engineering in 2018, where research focuses on understanding the mechanisms by which the tumor microenvironment contributes to cancer metastasis and resistance to drugs. She has received numerous awards for her research such as the DP2 New Innovator Award in 2021 and the 2020 CMBE Rising Star Award and was voted Exemplary Engineer by the graduate students in her department 3 years in a row. She is committed to promoting diversity, equity and inclusion in biomedical engineering, and is the founding member of the BME DEI committee, a member of the Tufts School of Engineering DEIJT Committee, a member of the BMES UNITE faculty group and co-organizer of the UNITE seminar series.