Event Information
Event Location
In Person | Fung Auditorium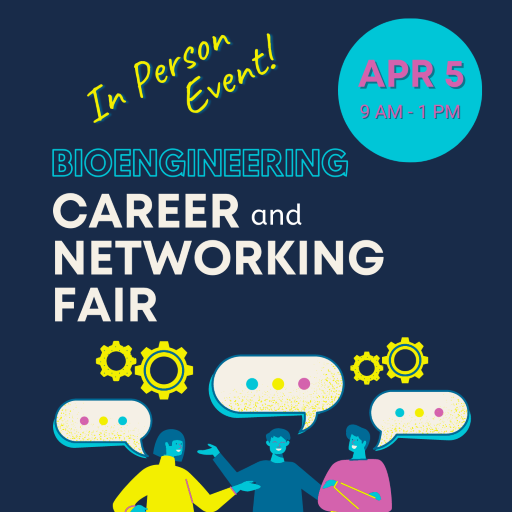 ---
Event Description
The UC San Diego Bioengineering Career and Networking Fair is the only industry fair exclusively for Bioengineering and Biotechnology.
The annual Bioengineering Career and Networking Fair is geared to provide local industry in Bioengineering and Biotechnology the opportunity to meet UCSD's emerging talent in the field. The event provides our Bioengineering students a live experience to learn about industrial products, companies, job, or internship possibilities in the industries.
This year's event will be held in person at the Powell-Focht Bioengineering Hall Fung Auditorium. Join us for formal round table discussions, networking, and/or resume exchanges on various company tables. The event is free for participating companies and UCSD students. 
Donations are greatly appreciated, and companies can be additionally featured on the platform. For gifts to sponsor the internship program and the educational mission, donate online HERE.
INTERESTED STUDENTS
Learn about companies, internships, or future hires. This is a great networking event and some companies are actively recruiting. Attend the preparation events to develop your resume and learn how to present yourself in an interview.
In Person Event!  Students will need to Register to attend >> Here
CAREER FAIR INFORMATION

 

In Person Event!  Students will need to Register to attend >> Here

Date: April 5, 2023  (Wednesday)

Location: Fung Auditorium | Powell-Focht Bioengineering Hall, UC San Diego Warren Campus

Time: 9:00 AM - 1:00 PM PST

Schedule

Graduate Students only: 9:00 - 10:00 AM PST

Undergraduate Students: 10:00 AM - 1:00 PM PST

 

PREPARATION EVENT INFORMATION

 

Learn what to expect and how to prepare for the event. 

REGISTER >> Here 

Market Yourself to Industry Workshop  -  with Dr. Wendy Yamamoto

Date: Monday April 3, 2023

Location: Powell-Focht Bioengineering Hall, Room 391

Time: 1:00 - 3:00 PM

About Dr. Yamamoto:  20 yrs experience in teaching ESL, business communication, navigating cultural differences in business settings, CSE Student Prof. Development Manager, Employer Engagement and Career Advice for 900 + students, graduate & undergraduate.

 

EVENT CONTACT

 

Isgard Hueck, Ph.D.

Industrial Liaison, Outreach, Career Advice, and Program Accreditation
Shu Chien-Gene Lay Department of Bioengineering
email: ihueck@ucsd.edu 
Phone: 858-395-0801

 
INTERESTED COMPANIES
Come Network, Recruit & SHOWCASE YOUR COMPANY!
Join us for 1-3 hours to meet and network or recruit UCSD's Bioengineering talent. We encourage Start-up Companies!
CAREER FAIR INFORMATION

 

In Person Event!

Date: April 5, 2023 (Wednesday)

Location: Fung Auditorium | Powell-Focht Bioengineering Hall, UC San Diego Warren Campus

Time: 9:00 AM - 1:00 PM PST

Schedule

Graduate Students only: 9:00 - 10:00 AM PST

Undergraduate Students: 10:00 AM - 1:00 PM PST

 

INDUSTRY INTEREST FORM

 

Company Table Sign up >> HERE

Interviews, Internships, Featured Companies, Meet our Talent

QR Code provided on INDUSTRY FLYER

 

EVENT CONTACT

 

Isgard Hueck, Ph.D.

Industrial Liaison, Outreach, Career Advice, and Program Accreditation
email: ihueck@ucsd.edu 
Phone: 858-395-0801